CODE:

RT4100WT + RTB1009M
100% ORIGINAL AND QUALITY
The RT4100 is a standard-sized fibreglass race seat. We have focused on achieving a lightweight seat shell with optimised geometry, straddling that line between designing the seat to be wide enough in the shoulders to suit the athletic build, but narrow enough to fit in most cockpits. Our patented back-mounted technology has trickled down from the 119 and 129 Series, giving you the option of fixing the seat to the roll cage at shoulder level. Large harness guides and a removable moulded base cushion allow a range of drivers of varying heights to fit. Breathable Spacer fabric, parallel sides and pronounced thigh support round off the features of this accomplished motorsport seat.
For the taller driver, the RT4100T uses the WT shell, with additional high-density foam from the sides up to the shoulders. For the larger driver, the RT4100WT is 60mm taller and 40mm wider than the standard seat.
The 4100 Series seats use Racetech RTB2009S (steel) or RTB1009M (alloy) side mounting brackets.
Dimensions and Weights:
Model
Material
FIA
A
B
C
D
E
F
G
H
K
L
M
Shell Weight
Total Weight
RT4100
Fibreglass
8855
60
56
38
47
50
87
63
37
56
67
40
5.7
7.6
RT4100T
Fibreglass
8855
64
62
38
51
50
93
69
37
62
69
44
6.0
8.1
RT4100WT
Fibreglass
8855
64
62
42
51
50
93
69
37
62
69
44
6.0
7.9
dimensions in cm
weights in kg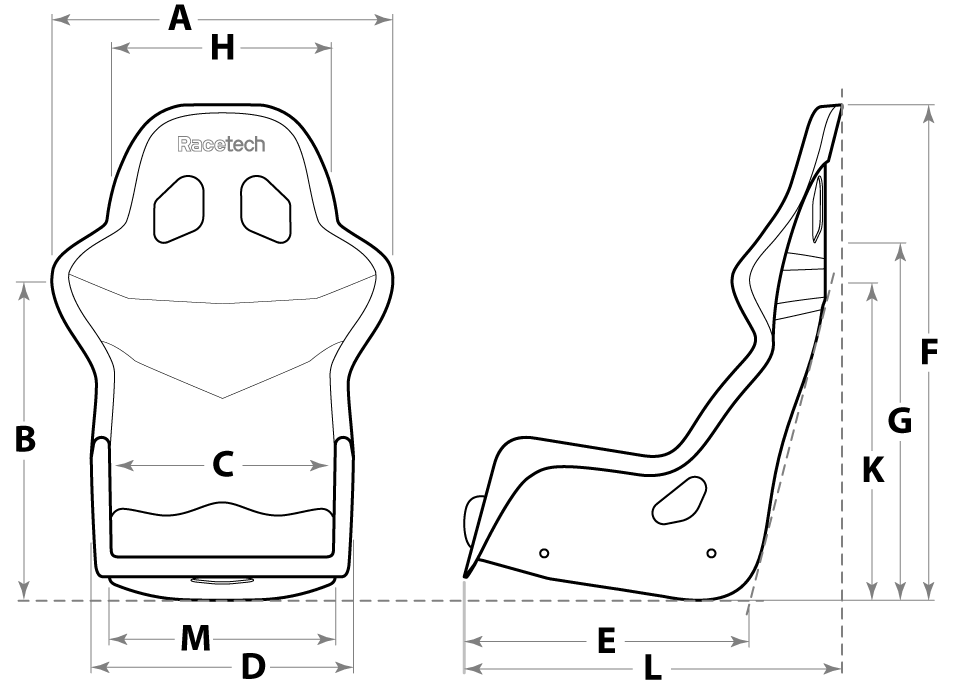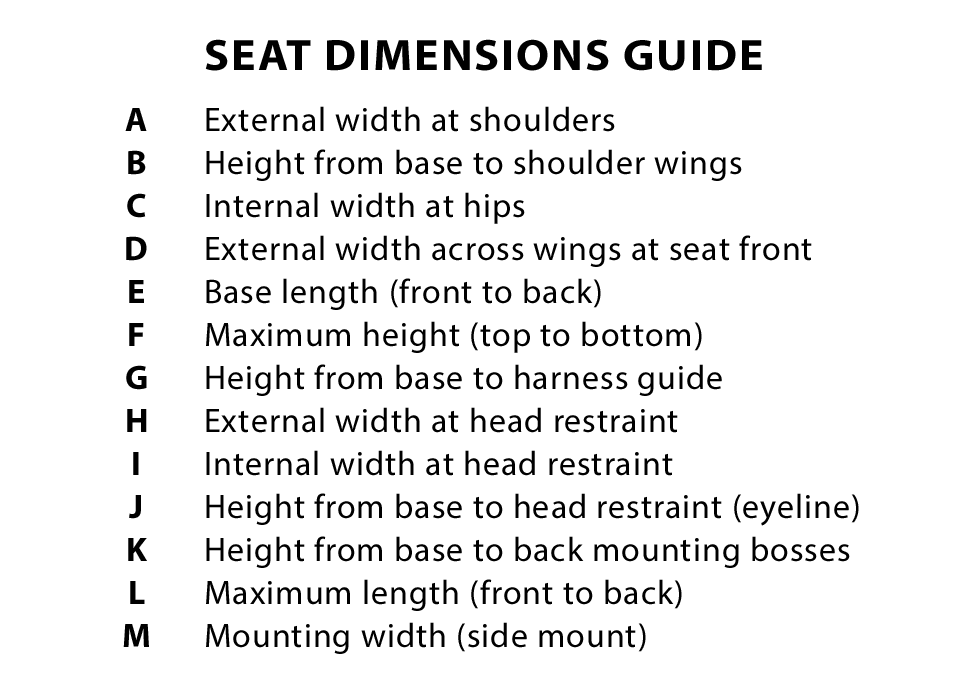 Terms & Conditions
The 10% online discount offer EXCLUDES units (Sea-Doo , Can-Am and Trailers)
Shipping Delivery
All prices listed for each product do not include any shipping charges or insurance.
Insurance charges are optional and to be paid by customer at their request. Contact us for a quote of insurance.
Shipping and insurance charges are non-refundable.
Customer is solely responsible for ensuring that accurate shipping information is provided when making an order for delivery. Please contact us ASAP if you find that the provided shipping information is incorrect or requires a change. Changing shipping information on the website does not update existing orders as they have already been processed.
Customer is responsible for all freight charges, for redeliveries, refused shipments/incorrect delivery details and these are added to the invoice total.
Dimensions/oversize weights are applied to freight charges when applicable.
Refund Policy
Please choose carefully. No refund will be made if you change your mind after purchase. Exchange can be given if the product you bought is defective. An original invoice is required for all exchange.
You must contact Friday's Seadoo & Can-Am first prior to returning any products for exchange.
Friday's Seadoo & Can-Am DO NOT accept returns for refunds, credit or exchanges based on incorrect, incompatible or unsuitable goods, please select your goods carefully before placing your order or ask for our advice before purchasing.
Friday's Jetskis DO NOT accept return for refunds for goods returned which has been opened/used/damage/modified.
Shipping cost or any financial charges is non refundable.
If goods received are not as ordered, please inform Fridays Seadoo & Can-Am within 24 hours of receiving the delivery, do not open any packaging or use as it will be deemed to be acceptance of goods and will not be accepted for returns. • Cancellation of an order will result in a minimum of 20% deduction for the loss of our time and depreciation of goods.
Cancellation of specially ordered item will result in a minimum of 20% restocking fee. No refund will be given after the specially ordered item has arrived at our warehouse.
Cancellation must be informed as soon as possible. Any cancellation after a product has been packed and shipped out will not be accepted. Thus, resulting in the customer paying for total invoice.
Friday's Seadoo & Can-Am reserve the title of ownership to any extra or incorrect goods shipped as result of our error.
General Terms and Conditions
Friday's Sea-Doo & Can-Am will always attempt to be as accurate as possible, however we are unable to guarantee that our product prices or descriptions or other content of the Website is accurate, current or error free.
Colours may vary from those displayed on your monitor.